Episode 178 – Forget boats, they come by plane now.
Podcast: Play in new window | Download
Subscribe: Google Podcasts | Spotify | RSS | More
It was Rudd not Morrison who stopped the boats and the big problem now is arrivals by plane. And we discuss "consent" in the context of sub-incision, virgin births and Noam Chomsky.
1:45 The Fist Was Wrong
Hi Trevor,
Thanks for the excellent episodes recently. The lively discussions and sensible centrism send you to the top of my playlist each week! Keep up the great work.
Just a small correction on lawyers representing clients who have privately confessed they are guilty.
Basically if you're a solicitor acting for a guilty client then you can cease acting, but only if the client lets you, and if you're a barrister then you should actually continue to act for the guilty client. If you continue to act for the client then you cannot tell the court that somebody else did the crime, you cannot say things that are inconsistent with the confession (for example you cannot say the client was somewhere else at the time of the crime), and you are basically limited to arguing that the evidence is insufficient to prove guilt beyond a reasonable doubt.
Regards,
Dean Stretton
Barrister
6:50 On sub-incision.
From a listener: I had lived and worked in the Kimberley WA for a number of years. I've had a number of Aboriginal friends and work colleagues tell me that sub-incision or a form of it is still practised. They refer to it as "Law" and is used by remote communities as punishment for pedophiles, rapist and sometimes young men fathering children out of wedlock. As far as I was told an incision was made at the base or along the penis so that the sperm would not run the length of the penis and the male could not reproduce.
10:36 God Didn't Get Proper Consent From Mary
From Newsweek: Tucker Carlson and Mark Steyn were not impressed.
Minnesota psychology professor caught the attention of conservative pundits this week after tweeting that God impregnated the Virgin Mary without consent.
Eric Sprankle, Psy.D, an associate professor at the Minnesota State University, angered Fox News host Tucker Carlson and guest commentator Mark Steyn with his Monday comments.
He wrote: "The virgin birth story is about an all-knowing, all-powerful deity impregnating a human teen. There is no definition of consent that would include that scenario. Happy Holidays."
He later added: "The biblical god regularly punished disobedience. The power difference (deity vs mortal) and the potential for violence for saying 'no' negates her 'yes.' To put someone in this position is an unethical abuse of power at best and grossly predatory at worst."
The professor's stance failed to impress during yesterday's airing of Tucker Carlson Tonight, with the host and Steyn left fuming over what they called the "dismal" state of atheism in America.
17:47 What is it about Morrison that grates so much?
My BS detector peaks out when Morrison speaks. As Allan Patience says on the John Menadue Blog:
His pronouncements were invariably undermined by the smug grin he manages to stamp on his face when claiming the high ground from a low moral base. He presents as someone hamming it up. He looks like a fake.
But it is since he became Prime Minister that Morrison's buffoonery has really come to the fore. The baseball caps and cheesy matiness were so confected, so contrived, as to be comical. There are moments when he looks like a mini-Trump.
21:00 Who Stopped The Boats?
Scott Morrison wants the election to be decided on "stopping the boats".
We witness again the repetition of the myth that the Coalition and Operation Sovereign Borders stopped the boats. As explained in the John Menadue Blog, they did not.
Consider key dates. In May 2011 the Australian and Malaysian governments announced an 'in principle' arrangement that up to 800 boat arrivals would be transferred from Australia to Malaysia for their asylum claims to be heard and, in response, Australia would be prepared to accept 4,000 recognised refugees from Malaysia. The arrangement with Malaysia was signed on 25 July 2011. The United Nations High Commissioner for Refugees (UNHCR) gave it qualified support.
That was scuttled when Tony Abbott displayed his only political talent – to oppose – and he managed to thwart the resettlement of some asylum seekers in Malaysia apparently on a matter of high principle – that since Malaysia was not a signatory to the UN Conventions on refugees and asylum seekers and so they couldn't be trusted to take our load.
The Greens dutifully complied with the Coalition's moral misgivings and appeal to high principle and the plan was ditched.
Over the next 22 months the number of boats soared.
The 'game-changer' was Kevin Rudd's announcement in July 2013 that people arriving by boat after that time would not be settled in Australia.
As a result, the number of boats dropped dramatically.
By the time Operation Sovereign Borders geared up for its first boat turn backs on 19 December 2013, the number of boat arrivals was down from 48 in July 2013 to only seven in December 2013. OSB applied only to the tail end of the boat drama.
Arguably boat turn backs would not have been successful at all without the July 2013 decision. For example, the Navy and Customs were able to turn back three boats in December 2013 after the introduction of OSB. It's hard to believe that it would have been physically possible to turn back 48 boats if they had continued at the monthly rate that occurred in July 2013 and that Indonesia would have quietly acquiesced.
In short, Tony Abbott  and Scott Morrison in Opposition gave the green light to people smugglers by opposing the implementation of the Malaysia Arrangement in September 2011. In Government, Operation Sovereign Borders, had a marginal effect on boat arrivals. By the time OSB came into effect, the number of boat arrivals had been dramatically reduced.
Number of illegal maritime arrivals who arrived in Australia by month            (1 January 2011 to 31 December 2014), by port arrival date.
SIEVS/BOATS
IMAs
2011
January
3
223
February
3
149
March
7
419
April
6
318
May
6
333
June
4
235
July
4
228
August
5
335
September
4
319
September
Abbott failure to support Malaysian Arrangement
October
5
259
November
10
734
December
13
1,070
TOTAL
70
4,622
2012
January
5
301
February
9
849
March
3
110
April
11
837
May
16
1,286
June
24
1,642
July
31
1,756
August
37
2,078
September
31
2,062
October
47
2,452
November
44
2,663
December
18
1,017
TOTAL
276
17,053
2013
January
11
541
February
17
973
March
35
2,320
April
47
3,329
May
47
3,252
June
40
2,750
July
48
4,230
19 July 2013
Rudd announcement not to settle IMAs in Australia
August
25
1,585
September
15
829
October
5
339
November
5
208
December
7
355
19 Dec 2013
First Abbott turn-backs
TOTAL
302
20,711
2014
January
0
3
February
0
1
March
0
0
April
0
0
May
0
0
June
0
0
July
1
157
August
0
0
September
0
3
October
0
0
November
0
0
December
0
4
TOTAL
1
168
The source of this data is the Senate Select Committee on the Recent Allegations relating to Conditions and Circumstances at the Regional Processing Centre in Nauru: Submission 31 from the Department of Immigration and Border Protection (DIBP). Crew are excluded. 
Note that the table refers to the number of 'Illegal' Maritime Arrivals (IMAs).
27:14 Forget boats, they come by plane now
From Abul Rizvi: At 27,931, the number of onshore protection visa (ie asylum) applications lodged in 2017-18 exceeded the previous record of 26,845 in 2012-13 (see Table 1). The 2012-13 record included protection visa applications lodged by boat arrivals as well as by non-boat arrivals. Coincidentally, the number of protection visa applications in 2017-18 is around the same level as Dutton's cut in the 2017-18 migration program.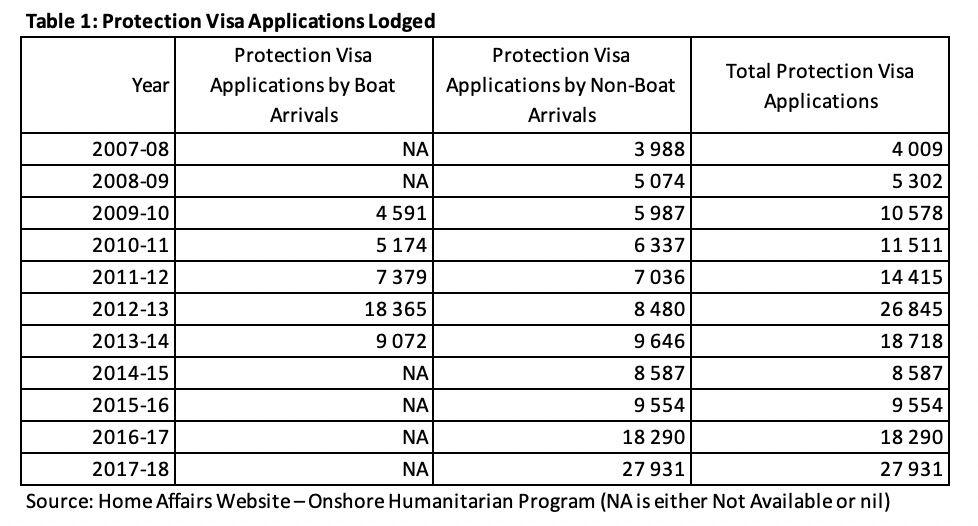 The Home Affairs Annual Report says a large portion of these applications are 'unmeritorious'. The increase in protection visa applications in the last two years has been driven largely by citizens from China, Malaysia and India (see Table 2). Vietnam has also recently emerged as a major source of protection visa applicants with 867 applications in 2016-17 and 764 applications in 2017-18.
41:32 Noam Chomsky Turns 90
From The Wire: "Intellectuals are in a position to expose the lies of governments, to analyse actions according to their causes and motives and often hidden intentions. In the Western world at least, they have the power that comes from political liberty, from access to information and freedom of expression. For a privileged minority, Western democracy provides the leisure, the facilities and the training to seek the truth lying hidden behind the veil of distortions and misrepresentation, ideology, and class interest through which the events of current history  are presented to us."
"(i)t is the responsibility of intellectuals to speak the truth and to expose lies. This, at least, may seem enough of a truism to pass without comment. Not so, however. For the modern intellectual, it is not at all obvious."
Chomsky has always believed that the much-vaunted freedom of expression in liberal democracies is largely a sham, because powerful interest groups, solidly invested in maintaining and strengthening the status quo, manage to limit the spectrum of public discourse with great skill. Once the contours of debates have been firmly drawn – and any outliers irrevocably 'demonstrated' to be deviant – public opinion is conditioned to stay within those clearly-marked boundaries and not stray beyond them. Chomsky famously called this process 'the manufacturing of consent'.
50:01 George HW Bush
A link to the order of service including the infamous Apostles Creed.
I'm with Trump on this one.
I believe in God, the Father almighty,
creator of heaven and earth.
I believe in Jesus Christ, his only Son, our Lord.
He was conceived by the power of the Holy Spirit
and born of the Virgin Mary.
He suffered under Pontius Pilate,
was crucified, died, and was buried.
He descended to the dead.
On the third day, he rose again.
He ascended into heaven,
and is seated at the right hand of the Father.
He will come again to judge the living and the dead.
I believe in the Holy Spirit,
the holy Catholic Church,
the communion of saints,
the forgiveness of sins,
the resurrection of the body,
and the life everlasting. Amen.
55:23 A Bit More on HW Bush
I think  George HW has pushed Trump into 2nd place in terms of worst ever President.
Comparisons with Trump are uncomfortably similar and the things we worry Trump will do, HW Bush did.
His father was a progressive Republican but he threw away the family ethos and voted against the Civil Rights Act to curry favour with conservative Republicans. It was opportunistic but worse, it was a refining of Nixon's Southern Strategy to win over the Southern States. When campaigning against Dukakis his ads showed a racist depiction of a black man. In his personal life, he treated blacks well but he pursued racist policies because it was politically expedient. He made two Supreme Court appointments. One backfired. Next time when first Black (and very pro-civil rights) judge (Thurgood Marshall) retired he appointed Clarence Thomas the Anti-Marshall, the one black jurist who stood against the civil rights legacy. The road to Trump's appeal to racism was laid by Bush playing the race card and because he clearly had no personal conviction (he flip-flopped on many issues like abortion etc) he paved the way for politics being a meaningless enterprise.
George HW killed millions of Iraqis, exercised regime change in South America, cranked up the war on drugs which led to the  unnecessary incarceration of millions of poor blacks, delayed effective treatment of HIV, poisoned the Supreme Court, appealed to racism and his unprincipled adoption of divisive policies opened the door to the takeover of the Republican Party.
56:44 American Companies have an Incentive To Move Offshore
The GM decision to move  1400 manufacturing jobs offshore was a no-brainer thanks to Republican tax laws.
There is a minimum tax rate for intangible assets (Intellectual property and trade secrets) but no tax on regular routine income from regular operations.
58:50 What Do Apple and Heston Blumenthal have in Common?
From the Brisbane Times: An aversion to paying tax in Australia.
The international restaurant empire fronted by world-renowned chef Heston Blumenthal is run through a series of notorious offshore tax havens while also substantially underpaying staff at its high-end Australian eatery.
The businesses are routed through the volcanic Caribbean island of Nevis – one of the most notorious jurisdictions in the world – where foreign companies pay zero tax on their worldwide earnings.
We should ban these arseholes from operating businesses in Australia.
Qantas call for Christmas airport volunteers has workers seeing red
From the SMH: "To support our airport teams at [Sydney International Terminal] over the 2018 peak Christmas travel period, we're trialling a new volunteer program for our Campus-based people who'd like to lend a hand to the front line in December and January," the email states.
"We require volunteers to assist at the self-service check-ins and auto bag drop area, bussing gates, concourse arrivals hall and at the transfer desk. The roles allocated to volunteers will depend on their preferences, skillset and security requirements."
It's understood that participants in the program are being asked to volunteer to work shifts of four hours, and are only paid for their time if those shifts fall within their normal rostered working hours.
Australian Services Union NSW branch secretary Natalie Lang said the move amounted to "wage theft" and represents "the classic Grinch tale".
"This is the period where it is so busy that Qantas actually jacks up its prices and price gouges people travelling to see loved ones … but yet they expect those people supporting those extra travellers to work for free.
1:02:56 Baby It's Cold Outside
From Spiked Online: Star 102, a radio station in Cleveland, Ohio, will no longer play the beloved festive classic 'Baby, It's Cold Outside' after some listeners called in complaining about its supposedly 'predatory' lyrics. Apparently, they are 'inappropriate' in light of the #MeToo movement.
:04:08  Gay Conversion Therapy in the Spotlight
From QNews: The Andrews government may have a ripple effect.
Queensland Health Minister Steven Miles has said Queensland could become the second state in Australia to ban so-called "gay conversion" therapy.
The dangerous and discredited practice was thrown into the spotlight two weeks ago after a Victorian branch of the Liberal party put forward a motion for the party's upcoming state conference that called for legislation allowing healthcare providers to "offer counselling out of same-sex attraction." The motion was pulled by state president Michael Kroger after public outrage.
Steven Miles said he would write to Queensland's Office of the Health Ombudsman to ask what powers it had to crack down on the practice.
"The idea that anyone should be running around saying that [gay people] need some kind of therapy to get converted is just disgusting," he told Sky News.
"I intend to write to the Ombudsman and ask if he has sufficient powers to deal with this particular problem and for his advice about what further powers he might need.
"The problem appears to be with non-health practitioners hanging out a shingle and saying they can offer this service, often under the sponsorship or auspices of a church or church body."
1:06:34 Des Houghton of The Courier Mail
Thank God for Adani, Gina Rineheart and Clive Palmer. In their hands are some of the largest coal reserves on the planet. If Palasczuk doesn't like it, she can lump it.
1:07:45  It Doesn't Matter Who Replaces Merkel. Germany Is Broken.
The erosion of the country's postwar order has created a populace open to messages and movements previously banished to the fringes.
The erosion of Germany's postwar settlement — a strong welfare state, full-time employment, the opportunity to move up in the world — has created a populace open to messages and movements previously banished to the fringes.
As with its politics, on the surface Germany appears to be an economic success story. Its G.D.P. has grown consistently for nearly a decade; unemployment is at its lowest since reunification in 1989.
But the system has come at a cost. To maintain their competitive advantage in the global market, companies held down wages. Though for skilled workers in the export-oriented manufacturing sector pay remained stable, or even rose, less-skilled and low-wage workers suffered. This was made possible by decentralizing collective bargaining in the 1990s, which greatly weakened the power of unions.
Average real incomes declined for nearly 20 years beginning in 1993. Germany not only grew more unequal, but the standard of living for the lower strata stagnated or even fell. The lowest 40 percent of households have faced annual net income losses for around 25 years now, while the kinds of jobs that promised long-term stability dwindled.
The number of precarious jobs like temp positions has exploded. At the height of postwar prosperity, almost 90 percent of jobs offered permanent employment with protections. By 2014, the figure had fallen to 68.3 percent. In other words, nearly one-third of all workers have insecure or short-term jobs. Moreover, a low-wage sector emerged employing millions of workers who can barely afford basic necessities and often need two jobs to get by.
The German middle class is shrinking and no longer functions as a cohesive bloc. Though the upper-middle class still enjoys a high level of security, the lower middle contends with a very real risk of downward mobility. The relatively new phenomenon of a contracting — and internally divided — middle class has set off widespread anxiety.
Waz Asks "Why Is Wealth Inequality A Big Deal?"
Because the middle class is disappearing and there is a good chance my great grandchildren will be in the non-elite class.
Money buys political power and a small number of wealthy elite can buy elections and get laws passed that suit them and disadvantage everyone else.
The Charles Koch Foundation has now given Spiked US a total of $300,000
In so many areas of public life in Australia, vested interests are abusing their power and influence on government. It is a public scandal what the PHI industry has been doing at the expense of the Australian taxpayer and good health policy.  But it is not just health policy that is being corrupted; it is our democracy where vested interests exercise enormous and secret power.
Please Donate to help cover expenses
A nice donation from Craig !!
He was donating through Patreon but prefers a one off arrangement.
| | | |
| --- | --- | --- |
| Expenses | Aud | USD |
| Website | | 20.00 |
| MP3 Hosting | | 20.00 |
| The Guardian | 16.00 | 11.52 |
| Crikey | 15.90 | 11.45 |
| Medium | | 5.00 |
| Inoreader | | 5.00 |
| The Australian | 18.00 | 12.96 |
| SMH | 7.50 | 5.40 |
| Sam Harris | | 7.00 |
| The Courier Mail | 15.50 | 11.16 |
| Total | 152.07 | 109.49 |
Thanks Waz for editing the IFVG Secular Index